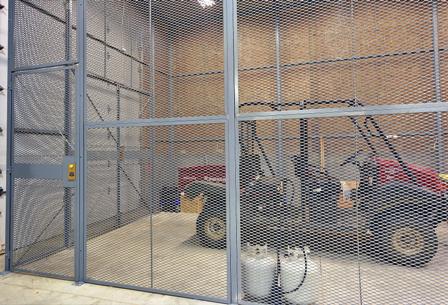 The Ultimate Choice in Theft Protection – SX 3000 Expanded Metal Security Cages       
Our SX 3000 Expanded Metal Security Cages are designed to offer the maximum in protection while providing strength, visibility and ventilation. Featuring a post and panel design, our security cages offer the flexibility to choose a configuration that best suits your needs and are available with or without ceilings.
Our expanded metal security cage panels feature structural stability that can accommodate site specific challenges.  The expanded metal used in our SX 3000 cages is extremely durable and because of the inherent strength of the metal, it's easy to retro-fit around existing pipes, beams, and other barriers.
In a standard installation, 4h x 8w panels are stacked horizontally and attach to square posts with included hardware.  The SX 3000 security cage system is able to accommodate heights up to 30' and is available with your choice of hinged doors, sliding doors or service windows.  SX 3000 security cage systems are polyester powder coated in gray.  Galvanized systems are also available for exterior use.
CLICK HERE FOR BASIC SPECIFICATIONS
CLICK HERE FOR INSTALLATION INSTRUCTIONS

FEATURES AND ADVANTAGES
SX 3000 expanded metal cage panels are manufactured from a single sheet of steel that is cut and stretched into an open diamond mesh design that will not unravel and is extremely difficult to cut or climb.

Modern looking and attractive, Securex SX3000 Security Cages are available in a variety of gauges, styles and diamond patterns to fit your design or application.

Permits the free passage of light, heat, air and sound while offering solid protection from theft or burglary.

Securex SX3000 Expanded Metal Security Cage systems are easy to install and can be reconfigured or moved for temporary or permanent use.

CAD design services available.

All of our welded steel expanded metal panels are manufactured in the USA.
 APPLICATIONS
Machine Guarding – Designed to meet OSHA physical barrier requirements

DEA Enclosures – By choosing our ¾" - #9 standard diamond pattern, our SX 3000 Security Cage panels meet and exceed physical security control class III, IV and V controlled substances as outlined in Title 21 CFR Sections 1301.72-1301.76 of the US Department of Justice code.

Data Center/Server Rooms – Securex SX3000 Security Cages deter physical access to valuable digital assets.

 

The ability to control data security risks and liabilites can help information-intensive companies comply with Sarbanes-Oxley and ISO 17799

Pharmaceutical/Chemical protection

Casino Cages, vaults and count rooms
OPTIONS
Can be built to mount flush to the floor or with a standard 3-1/4" sweep space

Available with the option of special over sized floor flanges

Doors can be fitted with safety interlocks to shut down equipment when a door is opened

Cage panels are available in stainless steel

Can be ordered with

ADA

handles and locks are available to comply with building codes for disable access areas

Emergency Exit Options include - Electronic push button for keyless access and panic push bars

Custom locking and closing accessories are available - including gravity and spring hinged self closing, self locking doors