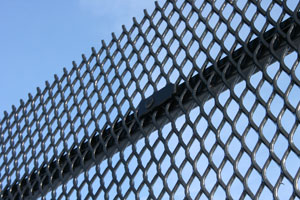 The battle has long raged over the difference between choosing expanded metal fence over other fence styles like chain link fence, welded wire fence, steel picket fence or aluminum fence. Before it's possible to know which product is best for your project, you must first ask yourself:
Why am I putting up a fence in the first place?
All fence styles have inherent strengths and weaknesses. Most have at least one major benefit over the other.
The biggest benefit of SECUREX expanded metal fence over chain link fence is its ability to deter, detect and delay intruders.
Expanded metal fences create a formidable physical barrier that when used in conjunction with access control options and other security tools can help fortify even the most critical facilities and personnel.
Chain link, welded wire, steel picket and aluminum fence do not offer the "big-three" in security. These three major points are not add-on options or upgrades. They are inherent in the material and they are what makes SECUREX expanded metal fence the only reasonable choice when security is critical.
Expanded metal fence is strong
Simply hold a piece of chain link fencing in one hand and expanded metal fencing in the other. There is no comparison. Expanded metal fence will not bend. It is rigid and solid with no welds that will weaken or twists that can come undone. With expanded metal you have deterred attack.
Expanded metal fence is extremely difficult to cut
Go ahead and take a pair of bolt cutters to chain link fence wire. Then, try the same thing with expanded metal. The chain link fencing will cut easily and then begin to unravel. You likely can't even get the bolt cutter to grab on enough metal to get through the SECUREX. With expanded metal you have denied access.
Expanded metal fence is even more difficult to climb
The smaller the mesh - or opening size of the diamonds - the more difficult a fence is to climb. Most standard chain link fence wire measures approximately 2 inches across. Compare that with a 1/2" or 3/4" measurement on expanded metal. Steel picket and aluminum fence also do not guard against climbing. With expanded metal fence, there is no way to get a toehold for climbing or even a strong finger hold. Intruders are delayed by expanded metal.
Take a look at the chart below to discover how expanded metal fence compares to chain link fence, steel picket fence, aluminum fence and welded wire fence.
Expanded Metal Fence vs. Chain Link Fence

| | SECUREX | CHAIN | STEEL | ALUMINUM | WELDED |
| --- | --- | --- | --- | --- | --- |
| CHARACTERISTIC | EXPANDED METAL FENCE | LINK | PICKET | PICKET | WIRE |
| SECURITY | HIGH | MEDIUM | MEDIUM | LOW | MEDIUM |
| ANTI - CLIMB | YES | NO | NO | NO | VARIABLE |
| MATERIAL STRENGTH | HIGH | MEDIUM | HIGH | MEDIUM | MEDIUM |
| PRIVACY | VARIABLE | NO | NO | NO | NO |
| CLEAN APPEARANCE | YES | NO | YES | YES | NO |
| COST | $$$ | $$ | $$$$ | $$$ | $$$$ |