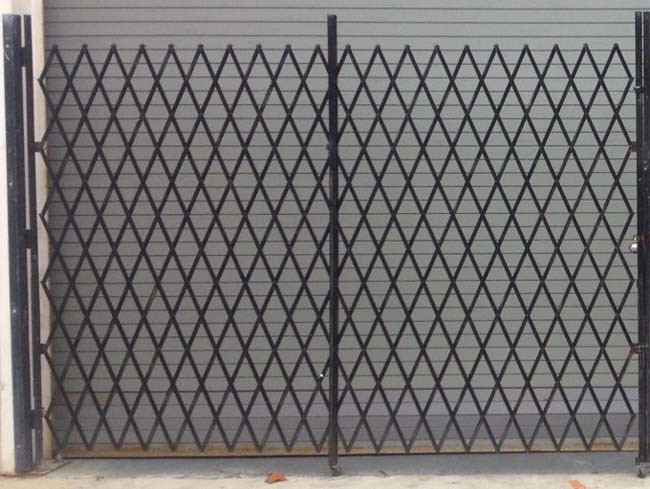 Diamond Expandable Gates are designed to add security in front of windows, doors, hallways or other areas where access needs restricted.  Standard styles include Pedestrian, Single and Double Folding gates.

Web channels are made of 3/4" x 3/8" x .0747 steel
End rails are 1/8" x 1-1/2" x 1-1/2" hot rolled angle steel

Riveted joints have steel washers between members for ease of operation
Black enamel finish

Pedestrian -  up to 48" wide

Pedestrian gates are reversible and can be mounted right or left facing and can be mounted inside of door jambs.  All pedestrian gates are fabricated with a padlock hasp  Pedestrian gates ship UPS.
Single Folding - 66" x 96" wide
These one piece gates can accommodate openings from 66" to 96" and up to 8' in height on standard models.  Single folding gates feature a bearing caster on the lead end for smooth operation and can be flush mounted or inside mounted depending on requirements.  Custom sizing and overhead door mount is available by special order. 

Double Folding - 8' - 20' openings
Double folding gates secure in the center for extra security and durability. Our double folding gates ship standard with floor pivot mounts, center cane drop pins, bearing casters, retainer straps and all hardware necessary to hang your gates.  Double folding gates are additionally available specialty mounting brackets that allow you to choose how you mount your gates.  When collapsed, these gates will pivot and fold out of the opening.  Gate halves will shrink in height 1" per 1' of extension while the bottom remains level to the floor. Please choose top mount, inside mount or overhead mount when ordering.

Diamond Rigid Gates - 66" - 174" wide.  96" high
Our strongest expandable gate is perfect for security between walls, columns or jambs where anchoring into the floor or or overhead is not an option.  Rigid gates are hinged and fasten to a wall - laying flat when not in use.  To secure an opening, channels hinge out to the top and bottom of the gate allowing the gate to extend to the full width of the opening. Ball bearings guide the gate in the base channel and support the gate in the top channel.   Standard finish is gray enamel but optional colors are available.