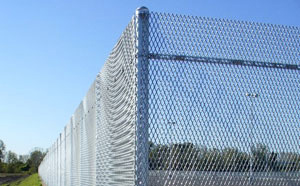 Courtesy Challenger Fence
The SECUREX expanded metal fence system is made of expanded metal mesh panels produced from solid sheets or plates of carbon steel or aluminum. Using a series of innovative post clamp fittings, the mesh is then attached to a round post and roll formed line rail framework.
The security barrier created is both formidable and very difficult to penetrate. Security fencing by SECUREX features anti-climb and anti-cut properties inherent to the metal itself. (For a detailed explanation of how expanded metal fencing is made, see our technical information on mesh at the Technical Info page.)
The entire SECUREX system is designed to be a no climb fence. This fence system is extremely flexible and can be customized to protect the perimeter of rail lines, power plants, schools, corporate facilities, manufacturing plants, airports, prisons and more.
When choosing which style of security fence may best suit your needs, you will need to determine the size of diamond mesh as well as the framework size that works best with your job. SECUREX features the following products: