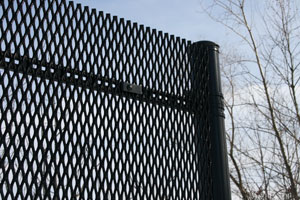 WHAT ASTM SPECIFICATION APPLIES TO EXPANDED METAL FENCING?
The standard specification for expanded metal fence is ASTM F2548-06. Additionally, you can look at F1043-06 or F1083-06.
HOW HEAVY IS AN EXPANDED METAL PANEL?
The weight of an expanded metal panel varies based on the gauge of the metal, the size of the panel. Please see the mesh weights and dimension chart on our Technical Info page for complete information.
EXPANDED METAL IS A STRONG, BUT SOMETIMES HEAVY BARRIER - WHAT ABOUT WIND LOAD?
Wind load is an important factor in determining the appropriate fence framework for the SECUREX system. Geographic location needs to be considered when choosing post size and spacing.
DOES EXPANDED METAL COME IN ANYTHING OTHER THAN STEEL?
Yes. Standard expanded metal fencing is a galvanized carbon steel. The expanded metal mesh panels however are available in stainless steel, aluminum, bronze, nickel, brass, copper and titanium. Should you need it, we can also expand various thicknesses of plastic.
WHAT IS HSLA STEEL?
HSLA stands for high strength low alloy. The steel expanded metal panels we produce are made of low carbon steel.
HOW DO THE FITTINGS WORK?
An expanded metal fence uses a series of fittings to hold the framework together. There is also a series of fittings that are used to hold the expanded metal mesh to the framework. For pictures and detailed descriptions, please see technical information on fittings file on our Technical Info page.
HOW DO YOU INSTALL EXPANDED METAL PANELS ON A SLOPE?
Expanded metal mesh panels should not be raked and installed using a step method. Depending on the grade, it may also be necessary to decrease the post spacing on the grade to accommodate for the opening created at the bottom of the fence. The space left at the bottom of the fence can be closed by choosing to bury part of the panel in the ground. For more information and drawings of the slope solution, please view our technical information on slope on the Technical Info page.
WHAT FINISH OR COLORS ARE EXPANDED METAL PANELS AVAILABLE IN?
Expanded metal mesh panels ship hot dip galvanized. Additionally, they are available in several grades of powder coat. For more information on our powder coat process, please view our technical information on powder coatings on the Technical Info page.
WHAT ARE THE DIAMOND SIZE OPTIONS?
Expanded metal mesh diamonds can range from very small 1/8"to 2" wide and 1/4" to 6" long. Not all of these sizes however are appropriate for use with fencing. Niles Fence and Security offers 8 combined options.For more specific information on the diamond size, thickness, etc. please view our technical information on mesh on the Technical Info page.
WHAT IS FLATTENED EXPANDED METAL?
Expanded metal is available in standard or flattened. Once the metal is simultaneously cut and cold-formed it can be flattened for specific use. Standard material is stronger than flattened material. For a complete discussion of the manufacturing of expanded metal, please view our technical information on mesh on the Technical Info page.
WHAT IS THE DIFFERENCE BETWEEN STANDARD ORIENTATION AND REVERSED DIAMOND ORIENTATION?
Expanded metal mesh can be attached to the SECUREX fence framework using a standard orientation or a reversed diamond orientation. The SECUREX fence system recommends using the reversed diamond orientation. For a drawing please view our technical information on mesh on the Technical Info page.
HOW CAN YOU TELL WHICH DIAMOND SIZE IS THE BEST FOR MY JOB?
The choice of diamond size is contingent on the primary goal of the fence. Expanded metal mesh is available in 6 different sizes for fence application purposes. Whether your project requires ultra strength or whether it is more important that the fence cannot be climbed, our designers would be happy to make a recommendation that may best suit your needs.
WHAT DOES RETROFIT MEAN?
RetroFit is the SECUREX designation for applying expanded metal fence over chain link that is already in place. It is also possible to retrofit expanded metal to steel palisade fence.
HOW MUCH OVERLAP SHOULD THERE BE AT THE CORNER OR TERMINAL POST?
Generally speaking, the mesh should overlap by approximately 2 diamonds or 2" when it reaches a terminal or corner post.
IS IT TRUE, EXPANDED METAL WAS USED ON THE BORDER FENCE?
It is true that expanded metal fencing was used on part of the US and Mexico border fence due to the superior security inherent in the product.
WHAT IS THE BIGGEST DIFFERENCE BETWEEN CHAIN LINK, WELDED WIRE AND EXPANDED METAL?
In terms of security fencing, expanded metal offers anti-climb and anti-cut properties that other fence styles cannot. For a detailed explanation of some of the benefits of expanded metal, please see the Expanded Metal vs. Chain Link page.
DO YOU HAVE FENCE SPECIFICATIONS OR DRAWINGS AVAILABLE?
Drawings for all of the fittings, standard fence designs and specifications are available on our Technical Info page.
HOW LONG WILL IT TAKE TO HAVE MY ORDER DELIVERED?
Because most of the SECUREX system is custom, there is no standard delivery time on materials. In general terms, most systems will ship approximately 4-6 weeks from date of order. During peak season, these times can range from 8-12 weeks. Please plan accordingly.
DO YOU OFFER VOLUME DISCOUNTS?
Yes. Absolutely.
DO YOU INSTALL THE EXPANDED METAL FENCE?
No, Niles Fence and Security is not an installation company. We are a material manufacturer and distributor. We may however be able to help you find a certified installer in your area.
WHERE ARE YOU LOCATED?
We are located in Niles, Ohio. Our contact information is available here.
HOW DO I GET A QUOTE?
For a quote on materials, please fax your drawing to 330-299-0329 or fill out this form.