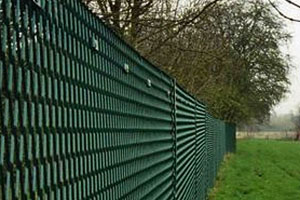 Niles Fence & Security Products, LLC is a leader in fencing security. Our mission is to develop and distribute expanded metal fence systems that meet and exceed our customers' expectations. At Niles, we believe expanded metal fences have infinite possibilities. We pledge to commit all of our experience, imagination and metal fence technology into making your ideas a reality.
Our SECUREX expanded metal fence systems are made of galvanized carbon steel mesh panels that attach to a round post framework. The systems offer complete customization and are designed for strength and durability. We inspect each security fence system for quality assurance, so you can be sure your new steel fence is reliable and dependable.
Niles Fence & Security Products, LLC works with the full support and experience of Niles Expanded Metals and Plastics, an established leader in expanded metal products and technology.
Niles Fence is proudly affiliated with the following organizations:
Technical information on Niles Fence & Security Products, LLC's metal fencing products, including short-form and long-form specifications, is available in ARCAT's online database.